---
Discover Natural Landmarks of Kenya
---
Samburu County
41. Mount Ololokwe
About 33 kms northwest of Archer's Post along the A2 Archer's Post-Merille-Marsabit Road, at the southeast corner of Namunyak Conservancy, isolated in the out-and-out plains, there's a spectacular volcanic centerpiece. And as far as impressive mountains in Kenya go, few match the elegance and grace of Mount Ololokwe, equally breathtaking and one of the most important cultural sites in Samburu County. Rather unmistakable, its rockface and flat tabletop jut-out, in isolation, from the low-lying plains, peaking at 3,000 feet. It stands-sentinel at the doorstep of Samburu as the universal welcome to the Great North of Kenya. Likewise, Mount Ololokwe, considered a sacred mountain and locally known as Ol Doinyo Sabache, is beyond-doubt one of the best eminence from where avid hikers can relish beyond-money vistas stretching over the arid plains, Mathews Range and Mount Kenya in the background. For the strong-minded adventurer there is a camping ground at the top of Mount Ololokwe and Sabache Camp at its base. It is located 33 kms from Archer's Post within Namunyak Conservancy.
42. Mathews Range
The glorious Mathews Range runs for 150 kms from the mid-part of Namunyak Conservancy southerly trending into Kalama Conservancy, oriented in a north-south strike. The Range is marked by a steep topography and granite outcrops that make much of the area inaccessible, its highest point (Warges Peak) rising to 2,688 ms. The forest cover is lionized for being in the best condition of all the sky island forests in Northern Kenya owing to the remote location, rugged steep terrain which precludes easy access, and cultural prohibitions or compatible use of the forest. Mathews Range was gazetted in 1956 and declared a forest reserve in 1964. "When gazetted the forest was recorded as approximately 97.4 km2 of which 25% was closed canopy forest, 50% mixed forest and 25% was shrub or grassland." Locally known as Lenkiyio Hills, the Range is a bio-diversity hotpot that stakes a claim as one of the most beautiful sights in Kenya. As a roadside attraction, views of the Mathews Range are exceptional at the western-end of the all-weather C79 Archer's Post-Wamba Road that travels along the boundary of Namunyak Conservancy (north) and Kalama and Westgate Conservancies (south) over the Mathews Range, to drop down into Wamba Town. It provides gratifying scenery and abundance of big game at Kitich Camp and Sarara Camp.
43. Losiolo Escarpment
This is one of the breathtaking sights in Samburu County's system of beautiful landforms and it is most accessible from Nyahururu and Maralal along the C77 Nyahururu-Baragoi Road. It is also accessible without too much difficulty via C78 Archer's Post-Wamba-Maralal-Malaso Road on a matching distance of 198 kms that presents equally impressive scenery and set of challenges along an all-weather road that's to be avoided over the rain season. At the moment, the C77 which is tarmacked upto Maralal just 36 kms outside of Malaso is the quickest route to Losiolo Escarpment or Malaso Viewpoint encapsulated by a sensational collection of dandy peaks, rock faces, sheer cliffs and striking jagged terraces that all roll down to Suguta Valley marked by a constellation of mud cones. It is thought that Suguta Valley was once occupied by the mythological Lake Suguta which linked to Lake Turkana. At the Malaso Viewpoint, the beauty of the fairly relatively flat floor of the Suguta Valley that is fringed by uplands east and west rising to 1,000 ms, is a dramatic scenery. Here, for hundreds of feet below, the valley's floor changing with each season, is more a moonscape than a landscape.
---
Siaya County
44. Got Ramogi Hill
Got Ramogi, easily recognized by its wooded and flat-topped taper hump, sways huge cultural gist among the Luo Community and it is epitomized as a fount of their communal origin and divine protection. Also known as the Sacred Ramogi Hills, it is culturally-thought to be the foremost site where Ramogi (Luo hero of origin) first settled and thrived. Safe to say, Got Ramogi is the most important cultural shrine in Siaya and a trip to this region should not omit sighting the hill and better still exploring the landmark. Got Ramogi or Ramogi Hill epitomizes the Luo Community's cultural hegemony and sphere of confluence within the Lake Victoria region as it migrated the 'Bal El Ghazar' along the River in Sudan. Traversed by the Equator, it has several sacred sites and objects associated with Luo cultural beliefs. Historically, Got Ramogi has been utilized as a shrine for many communal rites like ritualistic animal oblation and divine-providence by the elders. A guided trip along its walking trails goes past a great many of its the cultural sites which contribute hugely to the cultures of Luo. Got Ramogi is located 40 kms west of Siaya along Ratuoro to Yimbo Road through Bar Olengo
---
Taita Taveta County
45. Taita Hills
The strikingly sizeable Taita Hills covering close to 250 km2 with the highest peak reaching 2,200 ms and towering above the surrounding Taita Plain are an invaluable biosphere. Taita Hills form the northernmost sector of the Eastern Arc Mountain's Forest Landscape, that's a crescent shape formation which runs through most of eastern Tanzania and unfolds in the south-eastern marches of Kenya, ending near Voi. Taita Hills are comprised of three big massifs: Dawida and Sagalla located near Voi, and Kasigau located near the Tanzania and Kenya border. Dawida Hill (the central complex) is bound by Voi Town in the east, Mwatate Town in the south, Maktau Town in the west, and Ndome in the north. The appearance of part of the Taita Hills is so well known by holiday-makers to Mombasa as it is traversed both Nairobi to Mombasa Railway and the Nairobi to Mombasa Highway. Views of Taita Hills are lovely around Voi. And the views of Dawida Hill along the rarely busy Voi-Taveta Road are especially exceptional.
---
Turkana County
46. Mogila Range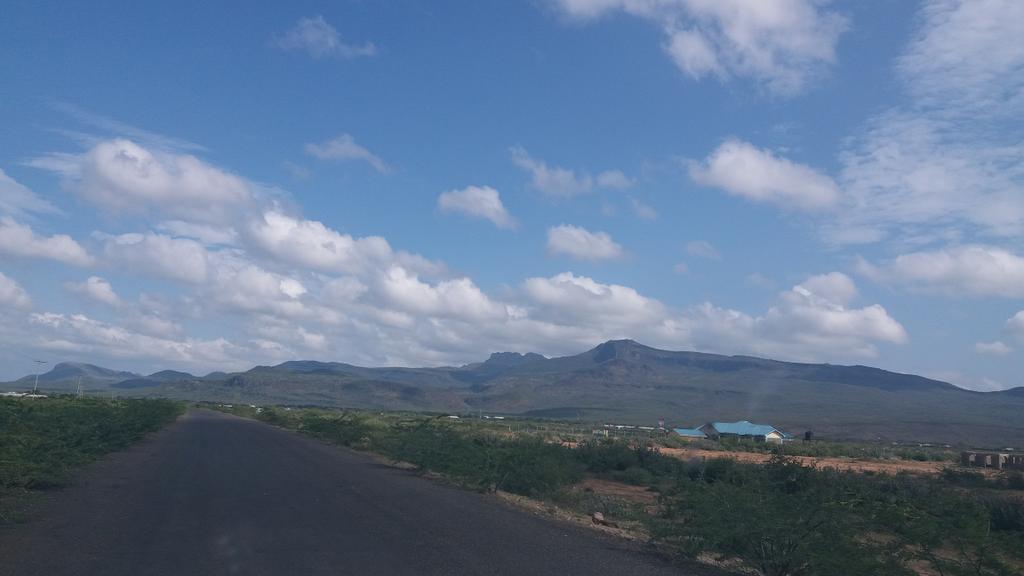 The distinctive rock face of the 1,693 ms Mogila Range – just a short hop north of Lokichoggio Airport and south of the Ilemi Triangle – has been a talismanic hiking location now for many decades although rarely travelled. Its proximity to Lokichoggio Airport, which is in air contact with Nairobi and serviced by daily flights, gives it an advantage and prospect for the avid climber as well as great potential for development as an adventure outfit. What's more, this has superb scenery over the Lokitipi Plains. Also located nearby Mogila Range is the rustic Kate Camp in Lokichoggio Town. This small, ever-busy, township is a cultural passage border-point between Kenya and Sudan. A word of caution is required here: that cross cultural conflicts have become a norm rather than the exception in this neck of the woods, making Lokochoggio unpopular with many travellers.
47. Loima Hills
The forest cover in Turkana County is estimated at only 4 %. Some of the more impressive forests can be sighted at Loima Hills nearby Kakuma and Murwana Nayeche, in the northwestern region. Because of their higher elevation, Loima Hills are normally green, covered with dense bushes and high woody cover. As a result these support important economic activities like farming, grazing, honey production, wood and charcoal production. The Hills are also famous for their legendary deposits of gold and gemstones which remain untapped except by a few natives who collect the gemstones after the rains. Loima Hills trend in a north-south strike from near Lorugum (in the south) to Kakuma (in the north).
48. Lokichar Hills
The scattered scrubland covered with herbaceous flora seen along the Lokichar Plains only subsides nearby Lokichar Hills. The increasing density of the woody plants on the higher reaches of these hills breaks the monotony of the shrubby vegetation; which is repeated again and again until it becomes exhausting. "The Lokichar Hills with their impressive rocks stretch, offer tempting opportunities for hiking and a wonderful view from the top. Lokichar Town doesn't offer any touring attractions but you could decent accommodation, food and petrol here".
49. Loriu Plateau
One the significant livelihood zone in Turkana County is at the riverine belt in Lokori and Katilu Wards of Turkana East Sub-County and Kerio Delta Ward of Turkana Central Sub-County. The invaluable asset in this zone is the presence of the Kerio River and the adjacent riverine forest – although the river's water level and flow varies seasonally concomitant with the rain seasons. Still and all, this at no time dries up completely and occasionally it floods. South of the river rises the Loriu Plateau. The hill range offers better grazing but the area borders Pokot territory and is often abandoned due to conflict. To the southeast beyond the Suguta Valley is Samburu territory that provides safer grazing options when migration is inevitable. The Loriu Plateau is an elevated Precambrian bedrock exposure, west of the Barrier Volcano, extending 64 kms north to south and is almost 8 kms wide. It is capped by Tertiary volcanic lava flows, the west margin rising gradually while the eastern margin is defined by a fault scarp more than 366 meters high in some areas to drop into the Suguta Valley with a maximum elevation of 1,463 meters. Loriu has a heterogeneous floral profile with acacia trees, bush and scanty grassland. Part of the 'plateau' is too steep for vegetation.
---
Vihiga County
50. Maragoli Hills
Maragoli Hills (also known as the Mungoma Hills) just like the fascinating and contiguous Bunyore Hills are an easy site to reach on a 20 kms fetching joyride along the C38 Ebusakami-Kima Road which connects Luanda and Makutano: A seldom busy roadway that takes you across the emblematic hillocks of Vihiga – Bunyore and Maragoli – whose distinction is not much over in evidence apart from the names of locations they occur. There is little that separates these two rocky ranges, geologically and topographically, the latter being rockier and less wooded. There are various vantage points of the Maragoli Hills overlooking the picturesque rural backwoods of Vihiga, or for the more adventurous numerous trails along footpaths snaking through the old-fashioned bucolic villages. Then, there's the famous middlebrow Mungoma Cave. In his book "The Stone Hills of Maragoli" Stanley Gazemba, the award winning Kenyan author, describes these Hills as "one of the simple things of this area but also one of the most splendid". Sadly for the locals, a big section of the Maragoli Forest has been encroached by human habitat for settlement, timber and firewood, leaving the Hills with bare rocks – owing to high population growth rate leading to negative impact on the environment, climate and food security. On the brighter side, Maragoli Hills, the highest point in Vihiga County, are still a scenically-splendid destination, with incredible views of Lake Victoria and the greater Nyanza. They are located 20 kms from Luanda and 23 kms from Kisumu via A1 Kisumu-Kakamega Road.
---
Wajir County
51. Mansa Guda Formation
These form a series of eroded down sandstone hillocks and distinct ridges in the northeast part of Wajir County, and trend westerly from near El Ben to Moyale. The sandstones are thin in the south, where they disappear under the grey soils, but thicken to the north-east where they become conglomeratic. Mansa Guda is geologically defined as sandstone-conglomerate beds at the base of the Jurassic limestones. Joseph Thompson, on his 1960 expedition of this region, compared the Mansa Guda Formation with the Adigrat Sandstones of Ethiopia. Similar sandstone ridges occur along the 30-metre terrace of the Daua River. Extensive continental erosion over millennia gave rise to the formation of the wide deep valley west to south of Mansa Guda Formation. El Ben is 67 kms north of Wajir.
---
West Pokot County
52. Mount Koh
The view of Mount Koh from Sigor converts an amateurs frame into a painting. Mount Koh is an isolated massif of Cherangani Hills which lies in the Tamkal Valley, and which from the Marich Pass Field Centre is easily recognized by its unique thimble-like peak. Koh in the local Pokot language loosely translates as the "cow's hump". From Marich Pass Field, it is a short but spine-rattling 8 kms trip to the base of Mount Koh; just before arriving at Wei Wei. This makes for a pleasant day of hiking, either from Marich Pass or from Chesta Guest House or KVDA Guest House in Lomut. Make sure to carry food and drinks and attempt to start as early as possible. With a days notice a local guide can be arranged to help hikers navigate through these unbeaten paths to some little known vantage points, at a small fee. Also found near Mount Koh is the Lomut Cultural Centre.
53. Sekerr Range
The more ardent explorer from Mount Koh may wish to continue their hiking expedition at the Sekerr Range, which would round up a perfect hiking tour of West Pokot. Sekerr Range is about 5 kms from Marich Pass Field Centre along A1 Kitale-Kainuk-Lodwar Road, and both these hillocks can be attempted from the comfort of this restful base. If the objective of the trip is to hike only Sekerr Range, then the Mtelo View Lodge set at the base of Sekerr Range is a suitable alternative. It can be reached using a motorable road which goes past Chetinon, Mariny and Mungat trading centres before arriving at the lodge. Sekerr Range, also known as Mount Mtelo, is the highest point in West Pokot at 3,336 ms and the 5th highest mountain range in Kenya following Mount Kenya, Mount Elgon, Aberdare and the Cherangani Hills. Its moderate incline makes for a relatively comfortable hike through a land that carries exemplary views. It is also revered as a holy mountain and as a popular pilgrimage shrine. On average, it takes two days to hike to the summit and back. Potters and guides are available on notice.
54. Turkwel Escarpment
Also known as the Turkwel-Sekerr Gorge, the jaw-droppingly splendid bonza of the Turkwel Escarpment is best seen from the crest (walkway) of Turkwel Dam, which to the delight of many adventure-makers is worth every trouble of getting here. The wide and yawning gap of the Turkwel Escarpment stretching about 10 kms, in these eerie silent backwoods, is moving almost to the blink of fear. Its fronting view is, of course, the picturesque Turkwel Dam with the Riting Hills forming a picture-postcard backdrop to its straight out of a fantasy scene. Those planning a visit here should get in touch with Turkwel KenGen Co., beforehand.
---
With increasing distance, our knowledge fades, and fades rapidly. Eventually, we reach the dim boundary—the utmost limits of our telescopes. There, we measure shadows, and we search among ghostly errors of measurement for landmarks that are scarcely more substantial. The search will continue. Not until the empirical resources are exhausted, need we pass on to the dreamy realms of speculation." – Edwin Powell Hubble, The Realm of the Nebulae
---
---
Latest Posts: Discover More
Journey around Tanzania gives great insights about the geography, selected districts and climate of this great country. Discover more about Tanzania.